Pioneering Common Sense Compassion in Oregon, across America and around the World
| Home | About | Contact | Donate | GuestBook | Action | Library | OMMA | Biz | Links | News | Legislation | Events | Calendar | Orgz | MERCY-TV | The MERCY Gift Shop >>
MERCY - the Medical Cannabis Resource Center * in Salem, Oregon, USA, call - 503.363-4588 * or email us.



Medical Cannabis Action Items


Medical Cannabis (Marijuana) Bills in Congress

Three medical marijuana bills have been introduced in U.S. Congress with support from patient advocates.

Please consider supporting them. Learn >>> more.

CAMPAIGN ACTION! Just Say 'Bull' to DEA Lies, Contact Your U.S. Reps and Tell Them Vote Hemp!


The Drug Enforcement Administration has kicked its lobbying against legalizing industrial hemp into high gear, hoping to block an amendment in the House that would decriminalize the crop for research purposes. The Huffington Post has obtained a copy of talking points the DEA is circulating among members of Congress to press them to oppose the amendment -- raising the seemingly incongruous specter of the government using its resources to lobby itself.

The talking points, paradoxically, represent a step forward in the debate. In the Senate, hemp advocates were left only to counter vague "law enforcement concerns" that senators told HuffPost were a factor in their willingness to support reform. By laying out those specific reforms, hemp backers will attempt to rebut them point by point. Learn more >>

Why Do Patients Care? | Some Cannabis Law Reform activists consider the Hemp sub-issue to be the linch-pin of Prohibition as that is where the real money is. When Hemp is allowed it will be the End of the War. This is because while the Medical side of Prohibition has Special Interest of Big Pharma, Hemp has - among others, Big Oil, Big Textile, Big Chemical and Corporate Farming of America in general - as represented by Monsanto, and their ilk. Although there will be some cross-pollination and effect on medical cannabis crops and gardens, the increased freedom to grow and process, along with environmental and nutritional benefits from the hemp itself it outweigh the negative effects to those who utilize it for therapeutic reasons. When we End the War, we will be able to find solutions to these issues and more. But with the War, we'll have all the issues and the War too. Learn more >>

You see, there is an abundant amount of feral hemp in the U.S. already, as well as several plants in the same phyllum that can fake out a cannabis plant. If we End the War, the Patients and Farmers will be free to find the best long-term, big picture situation for We, the People - instead of what profits Special Interests - and the government lackeys who serve them - the most. Learn more >>


About this page
...

the NotePad, our Bulletin Board
FeedBack for us.

Home
How to OMMA
Grow Tips - for Medical Cannabis (Marijuana)
Links
ORGz
The MERCY Gift Shop - get neat stuff, support the cause.
About
Contact
Donate
Help Out
GuestBook
Legislation
and other Action

Bizness
Library
News
Media
Newsletter
Current Whats Hap
all Events page. Like ...
XS+Med*Fest! and other items on the ...
Calendar view


---

The LAW


---

Need more info?
Search the Net
with Excite!ment

... plus Information on


Cannabis for ...
Doctors
Nurses


---




... plus Information on


Cannabis and / for ...
Children
Pets


---

also Information on


Cannabis by ...

MERCY in America; Medical Cannabis in the USA
Alabama
Alaska
Arizona
Arkansas
California
Colorado
Connecticut
Delaware
Florida
Georgia
Hawaii
Idaho
Illinois
Indiana
Iowa
Kansas
Kentucky
Louisiana
Maine
Maryland
Massachusetts
Michigan
Minnesota
Mississippi
Missouri
Montana
Nebraska
Nevada
New Hampshire
New Jersey
New Mexico
New York
North Carolina
North Dakota
Ohio
Oklahoma
Oregon
Pennsylvania
Rhode Island
South Carolina
South Dakota
Tennessee
Texas
Utah
Vermont
Virginia
Washington State
West Virginia
Wisconsin
Wyoming
Washington DC (District of Columbia)


---

The World of MERCY; Medical Cannabis around the Globe

Africa
Angola
Cameroon
Cape Verde
Egypt
Morocco
Mozambique
Senegal
South Africa

Asia
Cambodia
China
India
Indonesia
Israel
Japan
Malaysia
Nepal
Pakistan
Philippines
Russia
Taiwan
Thailand
Turkey
Vietnam

Caribbean
Bermuda
Jamaica
Puerto Rico
Trinidad and Tobago
Virgin Islands (US)

Europe
Albania
Austria
Belgium
Bosnia-Herzegovina
Croatia
Cyprus
Czech Republic
Denmark
Estonia
Finland
France
Germany
Greece
Hungary
Ireland
Italy
Lithuania
Luxembourg
Macedonia
Netherlands
Norway
Poland
Portugal
Romania
Serbia
Spain
Sweden
Switzerland
United Kingdom (UK)
England
Northern Ireland
Scotland
Wales

Latin America
Mexico
Central America
Costa Rica
Guatemala
Honduras
South America
Argentina
Brazil
Chile
Ecuador
Peru
Uruguay

North America
Canada
the United States

the Pacific (Oceania, Rim)
Australia
New Zealand


also Information on


Cannabis and ...

ADHD Attention Deficit / Hyperactivity Disorder
AIDS
Alzheimers
Anxiety
Arthritis
Asthma
Autism
Bipolar
Cancer
Cachexia
Crohns
Dementia
Depression
Diabetes
DIPG (Diffuse Intrinsic Pontine Glioma)
Epilepsy
Fibromyalgia
Glaucoma
Hypertension (High Blood Pressure)
Idiopathic Pulmonary Fibrosis (IPF)
Lupus
Multiple Sclerosis
Myasthenia Gravis
Nausea
Pain
Parkinson's
Pregnancy
PTSD (Post Traumatic Stress Disorder)
Seizures
Spasms
Tinnitus (Ringing in the Ears)
Tourettes Syndrome


---


CannaButter - a cannabis-infused medicinal application
Canna-Tea - Tea, a cannabis-infused medicinal application
Ticture - a cannabis-infused medicinal application
Canasol - a cannabis-based medicine
(RSO) - Rick Simpson Oil
(GHO) - Golden, Honey Oil
Tar (Resin)

Seeds - for Medical Cannabis and related info
Strains - of Medical Cannabis and related info


---

Welcome to the Action page for the MCRC.

| Legislative | How They Voted | Initiatives | HB2939 | the March |

Take Action! You Can Make a Difference

Attached is the press release for today's launch of the National Cannabis Bar Association. I've been working on this since last fall and am very excited and proud of how this is coming together.

I've also been working on creating a Cannabis Law Section of the Oregon State Bar. One requirement is that 100 signatures of Oregon practicing attorneys be submitted. Attached is the signature sheet. If you are an Oregon licensed attorney, or no someone who is and would be interested, please print and sign the form, and scan and email it back to her. We have about 78 signatures so far and although its probably too late in the year to make this section happen in 2016, we should be well positioned for 2017. see >> /libry/CLSXpetitionXform.pdf

Thanks!

Lee Berger, Portland Member of Founding Board of Directors - NCBA

Lawyers Establish National Cannabis Bar Association to Support Cannabis Clients in Complex Legal Environment

SAN FRANCISCO, June 10, 2015 – A group of experienced cannabisindustry lawyers today announced they have come together to establish the National Cannabis Bar Association (NCBA) to provide attorneys with educational and networking opportunities that will help them better serve clients in the industry. The cannabis industry operates in an exceptionally complex legal environment with rapidly changing state and local laws that are routinely in conflict with federal law. The NCBA is a specialty bar association dedicated to supporting business attorneys as they help businesses navigate this difficult landscape.

"As more and more states decriminalize or legalize cannabis – and set up their own regulatory structures – the legal conditions cannabis industry clients and their attorneys face are likely to get even more complex before they get simpler," said Shabnam Malek, founding president and executive director, NCBA. "The NCBA will offer support and advocacy for attorneys working with businesses in this rapidly changing, swiftly emerging industry." The NCBA will serve as an educational and organizational resource for its members – seeking to promote and maintain the highest standards of practice among attorneys working in the cannabis industry. The group will also serve as a resource for businesses looking for qualified cannabis industry attorneys. The ultimate goal is to ensure that businesses in this heavilyregulated field receive quality legal advice to help them meet high standards of ethics and business practice while reminding them of the limitations imposed by federal law.

"Attorneys have long been at the forefront of the fight for cannabis legalization," said Malek. "Now that 23 states and Washington D.C. have some form of legalized cannabis, there is a clear need for an organization focused on the business aspects of law and cannabis. Today cannabis industry attorneys are already busy helping their clients form new companies, negotiate agreements, complete license applications, comply with local and state laws, protect assets, and more. Our members represent clients who are involved in a wide array of activities in the cannabis industry along with various ancillary products and services. The NCBA's role is to help ensure that attorneys in the field are empowered to do their jobs well." Membership in the NCBA is open to practicing attorneys, paralegals, law students, and retired attorneys. Members will receive access to networking events, continuing legal education, and publishing opportunities. Annual membership rates for individual attorneys start at $150. The organization will host an event for new members at the National Cannabis Industry Association's Cannabis Business Summit and Expo in Denver on June 30, 2015.

About The National Cannabis Bar Association | The NCBA is a specialty bar association dedicated to providing attorneys in the cannabis industry with educational and networking opportunities to help them better serve cannabis businesses. More information and membership applications are available at >>


---

G.O.T.V.!! Register, Vote and Get EVERYBODY You Know to Do So Also!

Did you know in 2008, 6 million Americans did not vote because they didn't know how to register to vote or missed their registration deadline? This election year, Election Protection is working hard to make sure that this statistic isn't replicated. On September 25, 2012 -- and every day, really -- it's National Voter Registration Day, and Volunteers, celebrities, and organizations from all over the country will "hit the streets" to GOTV (Get Out The Vote). So, (!> Register to Vote <!), and get everybody you know to do so also. This single day of coordinated activity will not only work to register tens of thousands of eligible Americans, but also educate them about election information in their state so they are prepared to vote on November 6th. If you're a voter, help us build awareness and spread the word thru social media! Visit - https://www.facebook.com/events/459435227412350/

As you are taking to the streets with pens and clipboards, don't forget to bring a digital resource with you as well — the Election Protection Mobile App. Use our Election Protection mobile app to check the registration status of your family and friends, access the information about the most pressing issues affecting voter's in your state, and even help people register to vote. And of course, if you have any questions about voting or would like to report any registration issues please call the Election Protection hotline at 1-866-OUR-VOTE. Want to know your registration deadline? Please visit their state pages.

and Spread The Word! For more info, or to report and share your activity and otherwise support this action item, contact: Bill Piper; Director, Office of National Affairs - Drug Policy Alliance * by visiting - www.DrugPolicy.org.


Tired of all this hassle? Make a change, take action. End the War! Advocacy and Activism. Legislation; Candidates and Initiatives.

Action Items

Help educate your circle of support about OMMA and the beneficial properties of marijuana and cannabis in general. Help with the implementation of the OMMP.

For legal info - State laws, rules, statues, legal decisions, etc. - click > here <.

--- How can I help implement OMMA? ---

As an Individual …

As a Patient - remember YOU represent the cause; Don't flaunt your medical marijuana usage. While you should feel free to talk openly about the therapeutic benefits of cannabis for yourself - and proudly display your banners, which give you an opportunity to educate - you should also be considerate and always discrete in obtaining and consuming your medicine. Medicating should be personal and you should handle it as you would any other medicine. This especially includes educating family and friends, most notably children. Situations where people may mistakenly consume (ie- unmarked brownies) or otherwise be affected by some aspect (ie- second-hand smoke) must be expected and proactively managed.

As a Patient/Caregiver - tell everyone your anecdotal experience (what happen to your own body, or that of someone you cared for, in your own words) when medical marijuana was utilized as opposed to other drugs. Help educate your circle of support about OMMA and the medical properties of marijuana and in general.

As a Concerned Citizen - Educate yourself fully and ACT. Research, network, follow up and learn as much as you can so you can effectively share the information with others that think they are opposed. Stay in the loop and be aware of legislative, organizational or business activities that may effect yourself and/or those you care about. Constantly write to legislators, media, businesses and organizations and let them know the good news.

Organized efforts; joining us -or- forming your own (individual -or- group effort) other Organizations to consider … > see list.

Join a local group of patients and caregivers. By keeping in the loop, you'll be apprised of the latest developments in the field and alert you when a vote is scheduled and the need is crucial for a letter to your state or federal elected officials. You'll be informed of state and regional events where you can meet other advocates and help shape reform efforts.

Members and associates are needed to carry out these efforts:

Speaking before public interest and community groups.
Postering and passing out flyers.
Staffing information tables at public events and concerts.
Letter-writing campaigns and phone trees.
Producing benefit concerts - including musicians, nightclub managers, owners, booking agents and technical workers.
Donating money, goods or services, e.g. photocopying, printing and design work.
Launching a particular project for which you need the help of other volunteers and/or an organizations authorization to act in its name.

The contacts listed on the MERCY Orgz list are a few of the activists and groups dedicated to the implementation of OMMA and welcome inquiries from those with questions or issues. They provide one or more of the following services: Doctor Referrals and Patient Networks; either a caregiver (how to grow) or related Organization formed to help patients get their medicine. They may have Doctor referrals or help on filling out forms as well as contact with current Patients. Caveat emptor! Each has it's own rules and regulations, please study & research thoroughly before committing resources.
Action Item: Post-Prison Support Needed
Help Kevin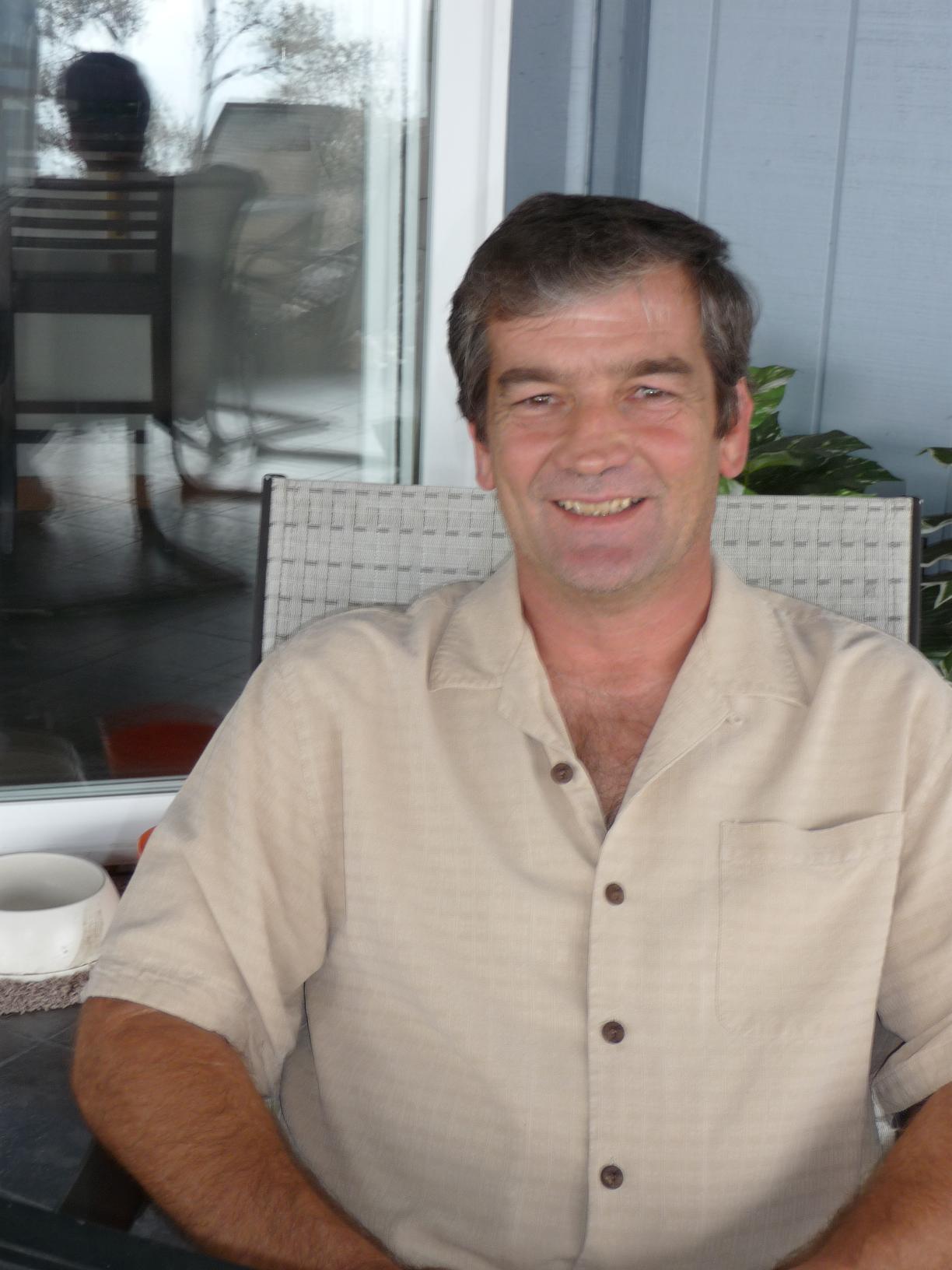 Hello, we are friends of Kevin here at the Mercy Center.
Kevin is -
A Medical Cannabis Patient - everyone knows to qualify in any state for MMJ, you must either be dying, or very sick and in a lot of pain.
Also, a CareGiver - To be a CareGiver you first must care about your fellow man or woman.
Also, a Grower - to be a grower you must have some knowledge to grow so the patients your helping will have some relief from all their conditions and ailments.
The Mercy Center is patients helping patients. Today Kevin needs your help. All of your help. All of us that use cannabis as our medicine know the risk that we take each day of our lives. This is no joke! People all over are being robbed every day for the cannabis they grow for patients. Or the cannabis they have for their own use. This is very, very serious. We all take the utmost care in who comes and goes to our homes when patient medicine is involved. We do lots of time consuming things to make sure the medicine is all right - just about all the Patients, CareGivers and Growers I know have been robbed at one time or another. We need the laws to protect us cannabis patients, as well as those who CHOOSE to help the sick and dying of our society. Kevin was put into a bad situation: he had been robbed for his medicine as well as those he was helping 2 or 3 times - now the man was back again to rob - Kevin did the best he could - sometimes things just don't turn out the way you would have hoped. That's definitely the case this time. Kevin Metcalfes case in HI went from bad to worse as they threw the book, kitchen sink, and anything else they can think of at him. The jury reached a manslaughter verdict and, while he is out, he still needs to clear his name and be totally free.
Kevin needs everyone's help in his appeal and other legal matters. Help This Citizen - could be you ... visit his website > HelpFreeKevin.net < and tell everybody you know. Then everybody you don't know. Yet!
And if you or someone you know who, like Kevin, has been robbed for their medical cannabis and would like to see some laws changed for the protection of patients who use cannabis leave your comments here > here
Please tell all you know about Friends of Kevin, who knows, someday it might be you who needs the help and us cannabis patients are people too. We all need to stick together and support each other. So please keep checking on this website for updates to Kevin's progress. We'll also keep you abreast of all the support we're aware of be it from the cannabis community, just concerned citizens. So show your support for this man who just wanted to help others that were sick like him and used cannabis for their medicine. Thanks for all you have done Kevin, for those who couldn't help themselves.
Yours, truly,
The Folks at MERCY - the Medical Cannabis Resource Center
The MERCiful Ultimate Louisiana Party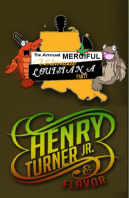 * Saturday, Sunday - August 2, 3, 2014 * starts: 10 AM, both days at Scio, Oregon * The MERCiful Ultimate Louisiana Party (MULP), a Fundraising Event featuring Henry Turner Jr (HTJR) and Ultimate Louisiana Party with Catfish, Red Beans, Rice and more * Music, Food, Activism, plus at Bear Creek Saloon, 40598 Cole School Rd, Scio, Oregon, 97374 * Events begins 10 AM, HTJr goes on at 3pm, Party til we're pooped. * For more info, like directions, click > here <
---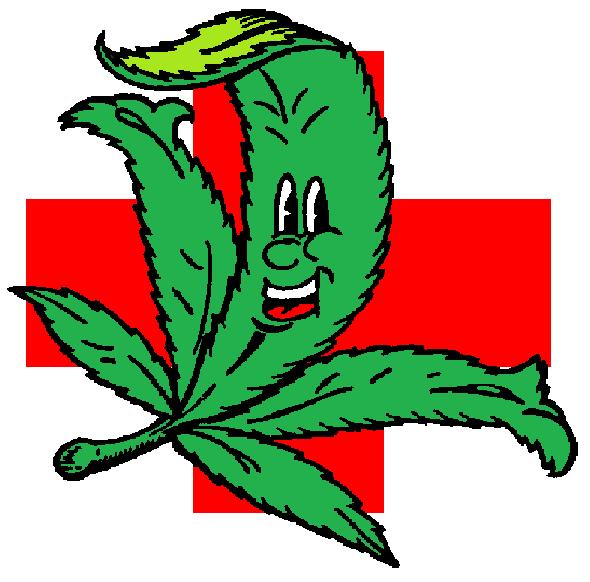 Next 420! will be Time to Take Steps
Taking steps to End Cannabis Prohibition, Willamette Valley NORML and MERCY – the Medical Cannabis Resource Center are organizing "joint" Rallys at the steps of the Capital Building, Salem, Oregon every year on 4/20 at 4:20 to Raise Awareness about The War and what people can do about it. For more information, click > here
A Smokin' Idea - the GlassWare Partys
Attention patients who use "glass" pipes for medical cannabis delivery devices. The last GlassWare Party is happened Sat., Jan. 28th at the Mercy Center from High Noon to 4:20pm. SORRY, but this is a cardholders only event. Click here for details.
MERCY Poster Party!
Make posters for special events of the cause in general, such as the Global Marijuana Marches. Sat., April 23 and 30, High noon in Salem. Click here for details.
JOIN the World-wide Cannabis Liberation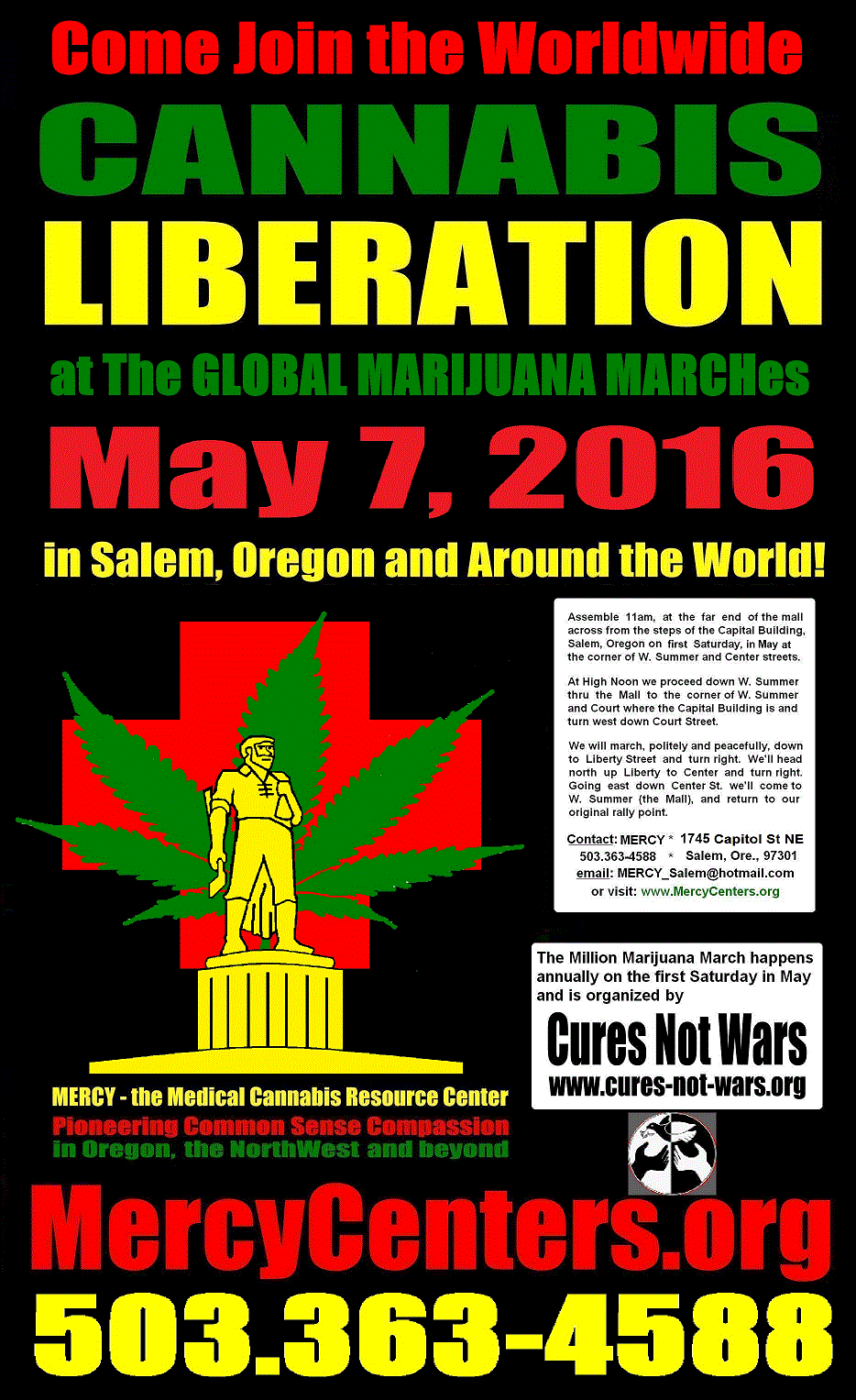 at the Global Marijuana Marches May 2, 2015
In Salem, High Noon at the Capital Mall

In Eugene, 2PM at the Federal Building

In Bend, Sometime at Someplace

In Portland, Sometime at Pioneer Square
and 200+ Cities Around the World! >> Learn more >>
---
Attention OMMP CardHolders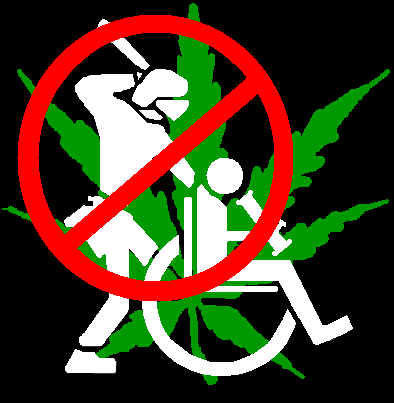 The Advisory Committee on Medical Marijuana (ACMM) Outreach Subcommittee is working on a project to help curb some LEO/Media/etc overstepping of boundaries - breaches of confidentiality, spreading misinformation, publishing protected info, LEO abuses of the law, inappropriate uses of the LEDS program, using public resources to publish anti med can info, et al. - in order to do an effective job, we need to hear what med can community members have read, heard or experienced. So, PLEASE look at the following list and if you have anything to contribute - do E-mail us. It is an evolving work in progress which will hopefully result in some changes, from the top down, in how LEO interacts with our community - please contribute your story (please focus more on what happened and less on your opinion about it) or links to news stories or leo publication info related to OMMP. thanks in advance -
CATEGORIES:
1. Public Disinformation (shows LEO's deliberate marketing of fear & reefer madness)
2. State Policy: recent ACMM letter to Atty Gen Kroger charging professional conflict of interest. Theme- it starts at the top and filters down thru LEO/District Attorneys or proofs of LEO abusing their power.
3. Testimony and Anecdotal Stories

4. LEO – LEDS Data and Charts

5. National Policy: use of Paramilitary Action for drug cases; other national organizations Policies that harm the patient (funding only for anti-mmj research, etc)

6. Costs: tax payers money – crimes in Oregon that are ignored, unsolved; Social costs – stigma (myths) and loss of Public Trust (cops lie) ; Personal costs – family fragmentation (mental, emotional, financial) leads to greater dependency on social services; cost of medicine that is destroyed (creates more profit for black market)
7. or Other? PLEASE E-mail us.
Get Writing Mad!
Please consider writing a letter to the editor to your local paper. There are many potential ways you could write a LTE. You need not focus just on the negative spin. You could elaborate on the positive in the article. Whatever you send, we suggest you keep your letter short, under 200 words, and focused on only one or two points.
We find this website among those useful for research to help respond to points in articles:
http://medicalmarijuanaprocon.org/
Thanks for your effort and support. It's not what others do it's what YOU do
**********************************************************************
Sample LTE
New York Times
To the Editor:
While Dan Hurley's article on the medical use of cannabis was a bit better informed than most and took considerable pains to cite several authorities, it still gave the default to our mindless federal policy of fiercely enforced criminal prohibition.
The simple truth is that the only reason any clinical research is being done at all is that "medical marijuana" laws have been passed in several states; however, simple perusal of those laws is enough to show that they are so highly restrictive in how eligible "patients" may be defined that -- given ambient federal hostility to the concept -- meaningful clinical research is nearly impossible in any state but California.
Also, most of those Hurley cited with skeptical views also got away with unwarranted assumptions. Typical was Dr. Murray from New Zealand, who claims that teens who smoke from an early age are more likely to develop schizophrenia. I know from systematically interviewing chronic users of all ages in California that cannabis, alcohol and tobacco are very attractive to troubled teens in general and that those who initiate all three at or below twelve years of age seem to have the most intense symptoms; thus his observations are not that surprising and certainly don't "prove" that cannabis causes schizophrenia.
Hurley should have been asking why such a witch hunt has been mounted against users of an agent that has shown so much promise in the limited studies which have been possible.
Additional suggestions for writing LTEs are at the MAPinc Media Activism Center:
http://www.mapinc.org/resource/
Or contact MAP Media Activism Facilitator Steve Heath for personal tips on how to write LTEs that get printed.
**********************************************************************
PLEASE SEND > MAPinc < A COPY OF YOUR LETTER
Please post a copy of your letter or report your action to the sent letter list (sentlte@mapinc.org) if you are subscribed, or by E-mailing a copy directly to heath@mapinc.org if you are not subscribed. Your letter will then be forwarded to the list so others can learn from your efforts.
Subscribing to the Sent LTE list (sentlte@mapinc.org) will help you to review other sent LTEs and perhaps come up with new ideas or approaches as well as keeping others aware of your important writing efforts.
To subscribe to the Sent LTE mailing list see http://www.mapinc.org/lists/index.htm
**********************************************************************
Thanx to Stephen Heath, MAP Media Activism Facilitator and Richard Lake, Senior Editor, MAP - the Media Awareness Project - for this alert.
( skip to End ) | ( next ) | Taking Action ... | ( prev ) | ( go to Top )
What do we hope to accomplish ... how? Why?
Some of their immediate objectives are to inform & educate about the therapeutic benefits as well as the true medical facts about cannabis; support the rights of patients & doctors in the OMMP; promote a healthier environment through hemp and empower groups and actions that broadcast information & news about the harm, waste and abuse caused by can prohibition in general.
The basic strategy will be to join and initiate events & actions; to research and spread news & info - to be the media outlet for the movement! MCRC wants to be in a position to help or even launch initiative and similar activities; to make available basic legal help for all cannabis users; to promote hemp for a healthier environment; to be a part of the community.
Patients and doctors in OMMP will be able to network and share information about their conditions and how to obtain & apply their medicine - growing tips, cooking recipes, which strains work best, etc. MCRC hopes to educate doctors and patients in general on their rights as well as the truth on the medical effects - beneficial and otherwise.
Though open only a short time and with sketchy volunteer staff hours, MCRC has had our first case where a Patient went and educated his doctor and got him to change his mind. A Patient with a doctor for the past eight years came in to our place and told us his story, how his doctor wouldn't sign. We educated the patient, patient educated doctor and doctor signed. "he was so relieved, so grateful, he had tears in his eyes" said an involved volunteer. "This is what we are all about".
Through the above actions, MCRC intends to build a volunteer base for constant recruitment & administration of the organization for the future. Through marketing and communications they hope to coordinate with business and organizations to make a lasting, positive change in the community. Check them out, be a part of it.
Many thanks to R. House Furniture for their generous support (next door to our office at 1695 Fairgrounds Rd., Salem, 97303. Call: 503.363-0596). Stay tuned for our next event -or- opportunity for contact -and/or- action.
Taking the Intiative(s!) ...
SOME TIPs on Registering Voters and Petitioning
REGISTERING VOTERS. People signing Petitions must be registered to vote. You can register as often as you want. When in doubt, register again.
A person can register and vote if over 18 (at time of election) and resident of state. Note! FELONs can register and vote in Oregon even while on probation or parole. The only exception is when in jail or prison.
If someone has their hands full, you can fill out the Voters Registration form for them EXCEPT for the Name and Date. Make sure the person registering Signs and Dates the form.
Once they have registered, it is best that they wait ten days and then sign. Some people have tried forward-dating their signature on the petition, while others have tried backdating the form - these are not good methods. They can take a petition with them and mail it back (get their friends to sign, too) or you can let them no where to catch up with us again. They should also find location information through all our media.
PETITIONERs. When generating copies or printing off the website, make sure the paper is correct weight (20lb, 24/60lb or 70lb) and that copies are legible. The petition side should be clear, aligned and full size. The cover page side should be legible, aligned in the middle. They should be on one sheet, each on one side. The top of the cover page should line up with the left-hand side of the petition when you flip the page over. NOTE: Oregon election laws require petitioners to carry a complete copy of the text of the initiative they are representing. Copies of the Life with Dignity initiative text are available from the same place signature gatherers can get petition sheets.
Make sure you have a copy of the text with you. Contact Voter Power for a copy >
Make sure they are registered. Make sure they sign only once per election cycle. Make sure that sign in their county. If they sign for the wrong county, cross it off.
If someone has their hands full, you can fill out the Voters Registration form for them EXCEPT for the Signature and Date. Make sure the person registering Signs and Dates the petition.
Voters in Oregon should not sign using a P.O. Box. It makes it harder to confirm, when necessary. Explain to signers and try to get them to write down the same address where they are registered to vote -- their current address -- and if necessary, to fill out a voter registration card (which you should have with you) if they have changed addresses since last registering.
THE "FRED MEYER" SITUATION. There was a case decided where it was ruled that a store could tell petitioners where to go (!) IF IN DOUBT, GO AHEAD and try. They can't arrest you without warning.
Select your spot and start petitioning. Be polite and unobtrusive as possible. Don't argue or pursue and NEVER shout.
If approached my management, try to address concerns, find parameters and work out solutions. If all else, just find another spot. You can't gather signatures while in jail or otherwise uselessly debating with the ignorant!
( skip to End ) | ( next ) | Events ... | ( prev ) | ( go to Top )
Ongoing Event Action Items
Event action items to copy, volunteer or just plain plan for in general. Opportunities to express, uplift and network with like minds. Stay tuned for the next event -or- opportunity for contact -and/or- action.
---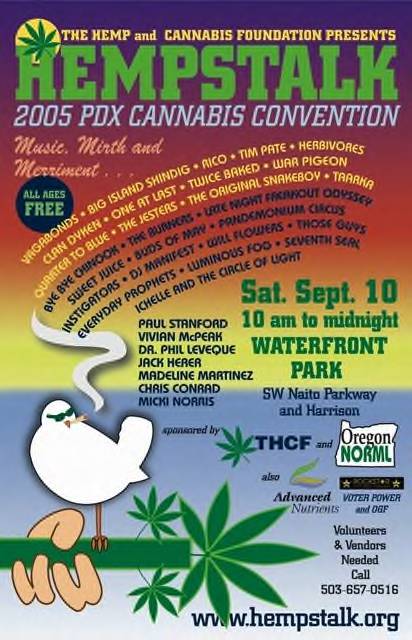 Hemp Stalk 2005
First Annual Cannabis Convention


The Hemp and Cannabis Foundation is Proud To Present: an educational event combining Information, Speakers and Entertainment. Music, Mirth and Merriment! There will be Bio-Diesel cars and vehicles such as buses on site, to demonstrate the fuel works and the clean burning nature of the fuel. Click here for details.
---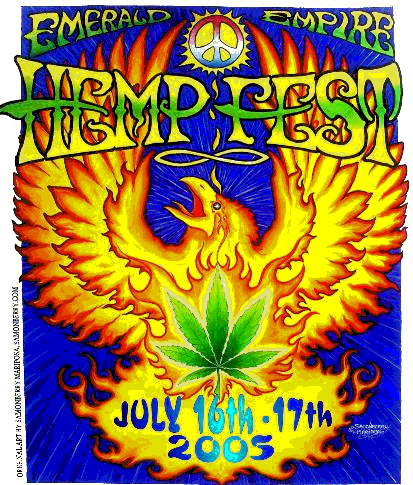 HempFest!
The Oregon Hempfest will be held next year on July 14-15-16, 2006 at Washington-Jefferson Park, not far from the Willamette River and the city center of Eugene, Oregon. Click here for details.
Want change? To make a difference? Get Org'd at the DPRC!



You'll be glad you did.
NotePad section
Enter questions, comments and link info in the NotePad. If you leave info about a Biz for the above section, It will be transfered up to the main list as soon as we can (and following approval). To request further maintenance, use the FeedBack form below.
<!AFTER>

Sunday, September 28, 2014 at 06:33 PM:
Elizabeth Tucker from Ohio wrote:
"My fiance who has epilepsy and has seizures everyday is facing 1 to 5 years in Campbell County Kentucky jail for marijuana. The marijuana helps him to calm down when he is about to have a seizure. I think that it is wrong to sentence a disabled veteran to jail for a little bit of marijuana which is his medicine. He has stopped taking his Dilantin and Neurotins because he has more seizures on them then when he stops taking them. I am just trying to get somebody to care. He served his country for 2 years in the Navy SEALS and is getting in trouble for medical marijuana. He has had a brain injury and has nerve damage. He cannot feel anything and his left hand doesn't move at all. I think it is ridiculous. Campbell County jail let him have 86 seizures back to back in a 72 hour period and didn't even take him to a hospital. The nurse at the jail kept giving him dilantins. He said the nurse gave him 18 100mg Dilantins in a 24 hour period. He is only supposed to take 3 100mg Dilantins a day. I want to raise awareness on legalizing medicinal marijuana. I see the help that it has for people. I just hope that someone messages me back. I support the cause 110%. "

Sunday, June 29, 2014 at 01:15 AM:
mother of an autistic epileptic 8 year old from Wisconsin wrote:
" we are broke but I have to know what are the steps for getting the cannibas oil shes on 4 potent drugs nows and I want to try natural do I have to move to MN asap "

Saturday, January 28, 2012 at 08:27 AM:
Jim from CannaMedicine in Oregon wrote:
" If you wonder about the real need and the benefits of medical marijuana, do some patient transfers like I do. The quality of life improvement will touch you deeply. The people breaking the chains of prescription medications will inspire you. "

Thursday, August 18, 2011 at 06:11 PM:
wes from salem wrote:
" If you needa more precise medication amount you can try making capsules.this can help you control the pain relief in relationship to impairment level. my wife and I came up with this so that I could have pain reief without fear of being to impaired to care for our children when she is at work or college.the first step to heat activating is to cut up the marijuana into smaller pieces for better heat activation. then place on a cookie sheet and bake at 225 degrees for aproximatly 10 minutes. then grind the marijuana into a powder. at fist you will have to do some experimenting with dosage level of each capsule. we tried 25%,1/3rd% and 50%capsules. to make 25% capsules mix 1 tablespoon of powdered medicine with 3 tablespoons regular baking flour then fill capsules. I used a cap-m-quik and "00" size capsules. to make 1/3rd% use 1 tablespoon of powdered medicine and 2 tablespoons of flour. for 50% use 1 tablespoon of pwdered medicine and 1 tablespoon flour. if you have a larger amount of medicine you can replace tablespoons and use cups(for example 1/2 cup powdered medicine and 1/2 cup flour equals 50%capsules) for me the 1/3rd dose is best for still being able to care for my children. of course, keep in mind the stronger the medicine, the stronger the capsules will be. hope this helps. "

Saturday, June 11, 2011 at 07:40 AM:
somebody wrote:
"check out the Patients Access to Cannabis Amendment at - www.paca4omma.org "
| Legislative | How They Voted | Initiatives | HB2939 | the March |
This site ... ... Empowerment Tools - of, by and for the People!