the annual MERCiful Ultimate Louisiana Party
NOTE/s: $7 donation will be begged for early and probably often, so consider yourselves warned. Look for sign "Sawyer Farms" off Cole School Rd.
* Saturday and Sunday, August 2nd and 3rd, 2014 * Event starts: High Noon, HTjr starts: 3 pm, Goes - til they kick us out *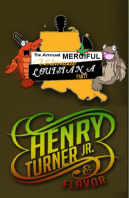 to be held in Scio, Oregon area. * * It is a 420 Friendly event, Patients wil be accomidated. To reserve your spot or, for more on the Event or MERCY, call: 503.363-4588 * BANDs and Musicians, see below! * The MERCiful Ultimate Louisiana Party (MULP), a Fundraising Event featuring Henry Turner Jr (HTJR) and Ultimate Louisiana Party with Catfish, Red Beans, Rice and more * Music, Food, Activism, plus at Bear Creek Saloon, 40598 Cole School Rd, Scio, Oregon, 97374 * For more on Scio's Bear Creek Saloon (BCS), see below, or visit Zvents - www.zvents.com/scio_or/venues/show/9557225-bear-creek-saloon
Henry Turner Jr. & Hit City Digital Records will host a 2-Day Ultimate Louisiana Party on August 2nd and 3rd from "10 a.m. to dark" on both days. This festival will be hosted at the Bear Creek private grounds in Scio Oregon, and is a benefit for the Mercycenter.org. Admission price will be $5.00 for Advance Tickets through Pay Pal, or $7.00 at the gate. A vendor court or food village will be coordinated for this event. Two key performance spots for each day (or 4 total) for this event will be filled through the Sonic Bid application process.
The Ultimate Louisiana Party (ULP) is a trademark of Henry Turner Jr. and Hit City Digital Records. The ULP was founded in 2010, and has served as a successful vehicle for sharing Louisiana music, food, and culture throughout the United States via Henry Turner Jr. and Flavor's National summer tours.
BANDs and Musicians! * If your band is selected to play at this festival, and must later cancel for any reason, it is imperative that you give us your Notice Of Cancellation by no later than one full week before the event. Anything less than this will result in your disqualification for all future events with Henry Turner Jr. and Flavor, as well as our making sure that others within our industry are made aware of this problem.
Contact info: Henry Turner jr
PO Box 64895
Baton Rouge La 70896
225-802-9681
www.ultimatelouisianapar.wix.com/ty
www.henryturnerjr.com
www.blogtalkradio.com/hcrgoldenvibes