Your Tax Dollars At Waste – Feds Paper Oregon With Lies and Threats |

Posted June 11, 2011 | Of course they were very carefully crafted ones such that – technically – they didn't make any actual statements of fact or accusations. But the effect was the same, as they intended. You see, a whole bunch of Letters went out in Oregon – and in every Medical Cannabis state – first to state officials warning of dire consequences should they allow any medical cannabis (marijuana) dispensing, then to all Landlords with the same message (click here for copy), then to all people and groups that the feds could dig up a mailing address on. See here - DISPY_Letr-to-ORG.pdf - for copy of what we got.
In the letters, where they paint a very broad definition of what is "dispensing" and say the result of it is that all the little children are using drugs. Sadly, all actual, real studies done to date on the subject show just the opposite. The most egregious truth that needs to be pointed out is that these bureaucratic bullies are doing this because it's better than going after rich and connected people and businesses; or actual criminals who really are armed and dangerous and fight back; because it beats working for a living, like us peasants.
Cease and Desist!
Another lie contained in the missives is that the Feds are only looking to shut down "illegal" Dispensing when in fact their Agenda is ReCINDing the state Programs altogether . The basis for this is their constant, on-going policy/lie that cannabis (marijuana) is not medicine.
-Responses-
Action ALERT! MERCY received their letter on or about Tues., 6/7/11, see here - DISPY_Letr-to-ORG.pdf - for copy. We also received a panicked phone call from our LandLord on Fri., 6/10/11. Our response to him was that we're not doing what they're "accusing" us of; that he is not going to be arbitrarily busted himself – and there is no need to flush his stash down the toilet … er, if he has one that is; and to refer him to one of our legal resources for further confirmation of his rights and action options in this matter. Further we are going to get him to Write Back! And Organize himself and those of his ilk as we see this as a perfect opportunity to -
- Outreach, Organize, Network and prep for Court Support and beyond.
o Letters to LandLord(s) and other interested parties and get them to assist in -

o Letters and other Action to US Attotrney(s) and Office (AG), as well as Admin (Obama). (protest/Rally? Injunction?). Web page for Ideas, Examples.

o As well as Letters to the editor, Demos/Rallys to get Media and other the like aware to get this into the Public eye and them acting upon it also.

o Mostly build phone-trees/e-lists of interested parties of -
- People and Groups involved – "Dispensaries", Clubs, Cafes, Organizations and any related Resources, like -
o Attorney and other Legal resources for this and future actions, activity

o LandLord net! (also, R/E and other Resources for finding, utilizing and networking (!) PLACEs in general.

o General Business/Organization resources, IE – Forms and How To; Biz Plan examples for Grants/Loans; Accounting & other Financial tool-sheds; etc.
- Fire/dis-Empower the Prohibitionists involved. This means targeting budgets and officials for de-election, etc., as well as the launching and supporting of Bills, Measures and Initiatives of our own.
Mainly, however, the most activity will go to helping the folks who were dependent upon the places shutting/being-shut down by this. Thus, a prime directive is reaching out and networking with all others involved to maximize the resource coverage and support, especially in outlying areas. See current Resource List at - /ommp/
---
A safe place for marijuana patients to meet - By Alex Paul, Albany Democrat-Herald

Posted: Saturday, June 11, 2011 |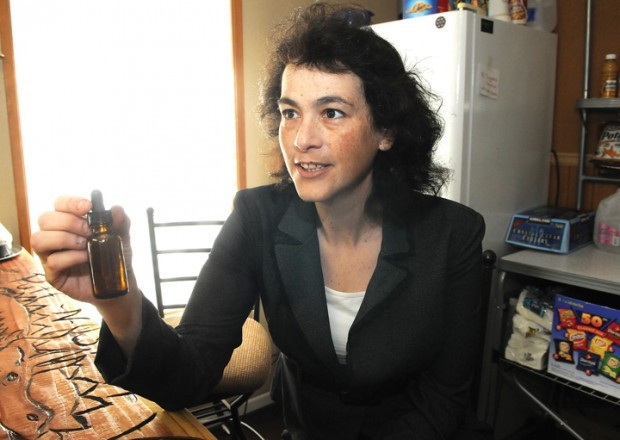 Sheri Levit with a bottle of liquid tincture of cannabis. One of the center's goals is to teach people about the healing benefits of cannabis without smoking it because, she says, smoke in any form is dangerous to one's health. (photo by Mark Ylen/Democrat-Herald)
Sheri Levit is emphatic that the Linn-Benton Oregon Medical Marijuana Program Patient Resource Center is not a "pot parlor"¯ where seedy characters sit in dark corners huffing on marijuana-filled pipes. That's exactly what Levit, the center's executive director, and her partner in the project, Kathy Srp, don't want for Oregonians who hold medical marijuana cards. Learn more >>>
---
back to [ Top of Page ]